An Overview of FastPass+
What is FastPass+?
Disney FastPass+ service lets you reserve selected attractions, Character experiences and shows up to 30 days in advance, before you even leave home (or 60 days for Disney Resort Hotel guests).
Guests can also manage their ride bookings on site, via the handy My Disney Experience App.
If you change your mind dont worry. You can amend your itinerary on the go in the park using the free WiFi throughout Walt Disney World Resort or you can use the in-Park kiosks. Alternatively, cast members are on hand to help.
When Can I Start Using Disney FastPass+ Service?
The Walt Disney World tickets Attraction Tickets Direct issue all have Disney FastPass+ service included. Depending on where you are staying you can start making FastPass+ reservations either 30 or 60 days in advance.
On-site Guests:
On-site refers to any customers who are staying in a Disney Resort Hotel. These guests therefore have a room and ticket and can start making FastPass+ reservations up to 60 days in advance.
Off-site Guests:
Off-site guests refer to anyone staying on a property outside of the Walt Disney World Resort. In this instance, customers will only have a Disney ticket as opposed to a room and ticket and can start making FastPass+ reservations up to 30 days in advance.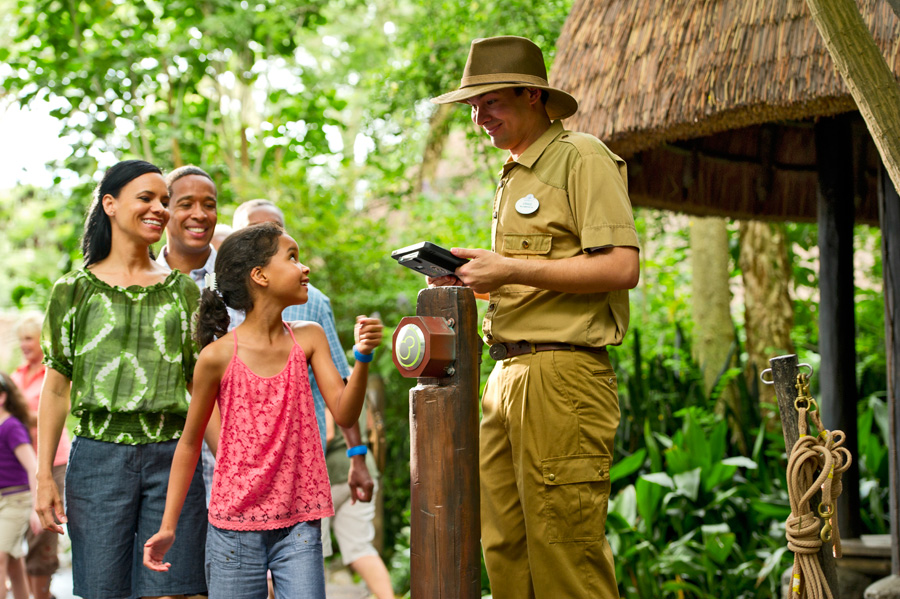 What's the difference between FastPass+ and My Disney Experience?
Disney FastPass+ service allows you to reserve selected attractions, shows and Character experiences before you even leave home. This enables you to pre-book a time at some of your favorite attractions so you can skip the standby line and get to the fun faster. You can pre-book up to 3 Disney FastPass+ per day, all of which must initially be made at the same park. Once you have used all of them you can book an additional FastPass+, which must be used before making another.
My Disney Experience is where you create your personal profile and start building your personal holiday itinerary. With My Disney Experience you can:
Plan your holiday time at Walt Disney World Florida and familiarise yourself with all the rides and attractions available.
Use some great planning tools such as park maps which highlight the top attractions in each park.
Pre-book your favourite restaurants to ensure you can make the most of your time in the parks.
Access Disney's FastPass+ to pre-book your rides & attractions. If you aren't sure what to select, try a FastPicks recommendation to quickly add multiple FastPass+ options to your plans!
With My Disney Experience, you can also:
Link your family and friends to your profile so you can share plans together.
View your day-by-day plans, including all your dining reservations, Wish List items and FastPass+ arrival window times.
Download the mobile app – with this you will be able to do everything listed above, plus see real-time attraction wait times and more!
To start planning and sharing, login to My Disney Experience and let the magic begin...
Why should I book my Disney tickets through ATD in Ireland?
At Attraction Tickets Direct we send you 'FastPass+ ready tickets' as soon as you have paid in full and we guarantee delivery within 7 days free of charge.
Customers who book through a travel agent may only receive their tickets a few days before they depart for Orlando. In this instance, it's too late to take advantage of the FastPass+ benefits, so the earlier you book the better.
Attraction Tickets Direct is the largest re-seller of Disney tickets in Ireland. Our information comes directly from Disney rather than via any 3rd party and our staff are fully trained with regards to every aspect of FastPass+ and My Disney Experience.
So if you need any help at all in planning your holiday, we are very happy to help.
What's the difference between MagicBands and Cards?
This is probably the single biggest area of confusion and we have had many customers asking about the difference between the two options, so hopefully the following information will dispel any myths.
MagicBands are issued to on-site guests.
Any customers staying at a Disney Hotel will be issued with a MagicBand. The bands include the room and ticket details (plus dining if purchased) and are designed for on-site guests to wear for convenience.
Magic Cards are issued to off-site guests.
Anyone who has bought a ticket only without a Disney Hotel will be issued with a Magic Card. The Magic Card, like the Magic Band, contains your ticket details and has been designed for off-site guests convenience around the Parks.
The very latest Magic Cards look like this. On the reverse you will be asked to sign your card before you activate it. The ticket number in the bottom left corner is the number you enter to complete your My Disney Experience profile, so you can begin to personalise your holiday plans.
Can I swap my card for a MagicBand?
Guests can now purchase a MagicBand once they are in the Walt Disney World Resort for $12.95pp + tax.
My Memory Maker
When you buy your Disney tickets with Attraction Tickets Direct, you'll get Disney's Memory Maker included. This amazing service allows you to keep and share all of the fantastic photographs taken during your Disney holiday. Memory Maker is worth $199 on the gate, but when you purchase your adult Disney Ultimate tickets with us, you'll get Memory Maker built in.
Frequently Asked Questions
What happens if I miss a reserved ride time or I want to make a change?

Changes can be made before you arrive at Disney or on the day using the free WiFi that's available throughout the parks. Simply by logging in to My Disney Experience, guests have the flexibility to change their plans on the go. If you miss a time, don't worry! Providing there is availability later in the day, you can simply move your pre-booked ride time to a time that suits you. If you need more help, kiosks are available throughout the parks so you can access My Disney Experience directly from there. Alternatively, Cast Members are on hand to help and revised print-outs of your new itinerary can be provided.

How far in advance can I make restaurant reservations?

Dining reservations can be made up to 180 days in advance.
Remember that we are here to help every step of the way, so please do get in touch if you have any questions. You can call us on 0(01) 649 8589 or email us on ask-us@attractionticketsdirect.ie and we'll be very happy to help.
© Disney
Liked this post? You may also like…